Now let's get into Marvel Animation. Like DC Comics is having trouble with their theatrical releases aside from the Nolan Batman movies, Marvel is doing worse in their animation department considering from I heard on the internet about the two beloved series Spectacular Spider-Man & the Avengers: Earth's Mightiest Heroes got canceled mostly due to Disney being a part of Marvel and after seeing Ultimate Spider-Man, fans were pissed at the result of that show and while that happened, Marvel decided to cross into anime territory along with the help of studio MADHOUSE with Marvel Anime, a 4-part anime project that reintroduces them for Japanese audiences and the following feature players were Iron Man, Wolverine, X-Men & Blade. Now I'm only covering the Blade anime for today as the others will be on another day (summer 2013, coming soon).
Erik Brooks was half-man, half-vampire after his mother Carol was attacked by a vampire named Deacon Frost. He sought assistance from Noah Van Helsing and over time, vampires worldwide fear him as the "Daywalker" or "Blade". He investigates a vampire organization in Asia called "Existence" starting from Japan all the way to Southeast Asia.
Okay, I know most of you have heard some of this plot before and if you haven't, you didn't see the first Blade movie.
Yes, the plot of Blade hunting down Deacon Frost for killing his mother is a part of the first movie but in the series, the killing of said mother takes place in England, which I heard that Blade was originated from in the comics so yeah, Blade is British.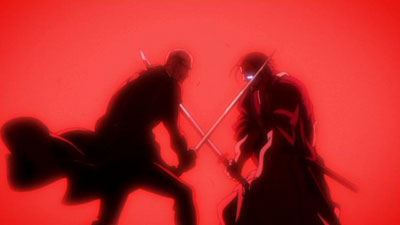 Joining the hunt alongside Blade is Makoto, a female vampire hunter who at first hunts Blade for killing her father, even though she should've been hunting for Frost since he turned him into a vampire and Blade was just doing his job and making sure she doesn't die. There is also Noah Van Helsing, most likely the one who supplies Blade with weapons and for that, he does a better job of that than Shen from the live-action TV series and he has a wolf-dog whose name I don't know or too lazy to find out.
Most of Frost's flunkies or either vampires of the High Council are served as easy targets for Blade whether he comes close and it doesn't seem much of a fight but just as a fly in his face and the weirdest (and dumbest) thing about it whenever Blade finishes an adversary, he calls out a move like it's a damn videogame move. All the other very minor characters in the series often share their backstories but we as an audience can't get too close to them since after that episode, that part never gets mentioned again. Even Deacon Frost just turns out to be a pretty generic villain and yet I don't know this version of Blade is better or worse than the Stephen Dorff version and yet both versions want the vampires to rule the world, even going against the purebloods……which is the exact same thing that happened in the movie but in here, it feels too much of what we already seen in most action-oriented and/or comic book series.
So, in the U.S., the show (along the other Marvel Anime) aired on the formerly geek-centric G4 and the dub of this was made by Studiopolis, Inc., an ADR production company who worked on dubs (either anime or Western animation) in the past such as Afro Samurai, Blood+, Bleach & Naruto. The voice of Blade in this effort was Harold Perrineau, whom you know from Lost, OZ & Link from The Matrix Reloaded & Revolutions and he was fairly decent in his part, not better but still better than Sticky Fingaz' effort.
While the animation by MADHOUSE does look very beautiful and dark to look at but the action scenes animated there rate from sub-par to weak, since I mentioned the calling-out your move when finishing an enemy earlier and the character design of Blade looks……odd in some way but not in a bad way but very strange. The music overall is awful in this series, mostly a generic rock theme for the series that never fits the tone whatsoever and the rest of the music is standard anime music but not exactly being a standout.
FINAL VERDICT (THE ANIME): Very, very uninspired and overall boring. I will say that plot is more Blade-focused rather than going for the other characters' less important side story and most of Blade's past in the series has more detail added than the movies but the action gets rather too repetitive too quick and too monotonous. I can't judge the whole Marvel/MADHOUSE project too quick since those I'll check out later but for this one, I'll say watch only once.