Otakon 2013 Announcements & The Hybrid's thoughts on them
11 AUG
2013
Well, another anime con has passed on and as always many anime fans speculate what announcements might surface on the panel floor. Some of us will be thrilled, completely surprised, and excited that titles will get either licensed, re-licensed, or have a dub coming while some of the other announcements may not have the same effect on other people or they don't get out of the good stuff until the next con, which could take about a month or so.
Now I have talked about some thoughts on the Anime Expo 2013 announcements before (well, I talked about it on my Tumblr page: Part 1 and Part 2 right here) but I think this is where the most shocking announcements were made or at least the ones we didn't expect soon enough. However, I will be focusing on the main 4 anime distributors of North America: FUNIMATION, SENTAI FILMWORKS, ANIPLEX OF AMERICA & VIZ MEDIA.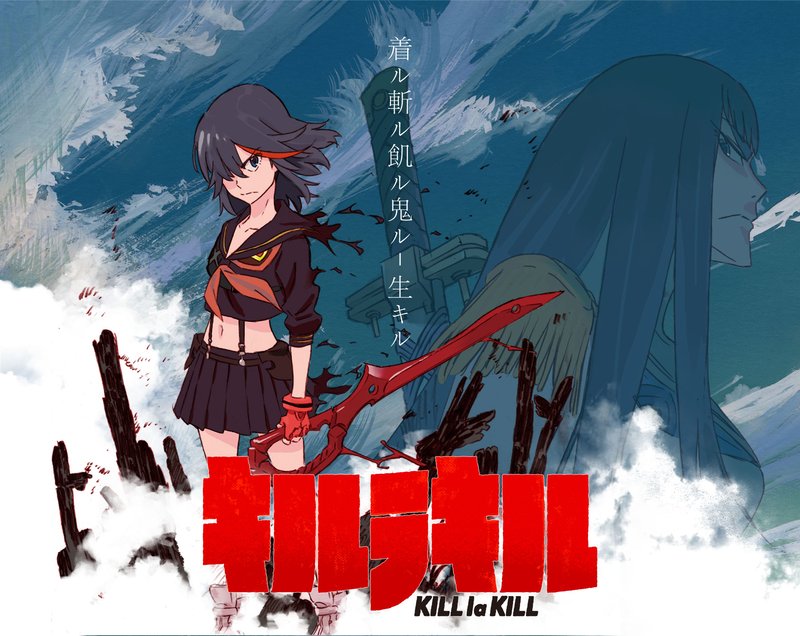 ANIPLEX USA licenses KILL LA KILL
Yeah, I think everyone knew that it would eventually get licensed by this company, considering Aniplex Japan produced the show and so many people bitch and bitch on the internet forums (mostly ANN) about this particular company for reasonable yet aggravating reasons.
Plus, Kill La Kill looks actually interesting to me, one of the promising Fall 2013 titles from Aniplex that isn't a continuation of a half-assed show (Valvrave, anyone?) And the people/staff behind it sounds intriguing with the writing team of "Gurren Lagann" behind it and Studio Trigger making their first anime produced by one of the largest anime producers, especially since this year has been stellar to them with their Kickstarter Little Witch Academia 2, earning $625k, surpassing the Time of Eve and Kick-Heart kickstarter.
The story is set on a high school that the student council president Satsuki Kiryūin rules by force. Ryūko Matoi, a transfer student wielding a giant Basami scissors sword, brings about upheaval on the campus.
So, I hope when this is streaming in the fall, it could turn out to be a promising hit.
RANMA ½ coming to Blu-ray, digital, and Neon Alley
I only got about a taste of Ranma when I reviewed it (Well, it was 161 episodes of that. You know I don't review anime that are very long [or still running], although I did review Monster Rancher) but now, this will make me want to be tuned into the show since I got the Neon Alley service….but just week after week, depending on they run the episodes either like they did Bleach or Naruto the first few weeks of Neon Alley, about 2 or 3 episodes a week.
I also think bringing the series to digital and Blu-ray would be easier for old-school anime fans to find, even the manga is going back to print via Viz Media.
SUNRISE titles previously owned by BANDAI re-licensed by FUNIMATION & SENTAI FILMWORKS
As mentioned in other cons, anime studio Sunrise has decided to sell their title that were previously distributed by Bandai Entertainment to companies FUNimation and Sentai Filmworks and that was one of the biggest announcements to ever come there.
Sentai Filmworks now has the licensing rights to:
Sacred Seven<cite> (which was never dubbed, could be but I'm not holding my breath)</cite>
<cite>The Big O</cite><cite></cite>
The Big O II<cite> (I know what you're thinking; Sentai now aired a show on Toonami, right? Well, not really. Williams Street/Adult Swim still got the broadcasting rights to this show.)</cite>
The Girl Who Leapt Through Space<cite> (not dubbed)</cite>
Kurokami The Animation<cite> </cite>
FUNimation, on the other hand, got:
There is another announcement that the Code Geass sequel, Akito The Exiled, is also now licensed by FUNimation; but there is also one more title that they licensed, which leads us to…….
COWBOY BEBOP coming to Blu-ray for the first time
This is perhaps the biggest news of them all during the Otakon weekend and possibly the one with the most overwhelming reception. One of the most iconic anime in our times is being licensed by one of the biggest anime companies today. It perfectly fits right on the money considering this is that one anime for everyone into the medium to watch, and even people who don't even watch anime would watch this. Now you don't have an excuse to say "I haven't seen Cowboy Bebop." Actually, that excuse should've been dead a long time since it's been airing on Adult Swim for many, many, many years (DVRs and internet exist, use them.)
NEW NEON ALLEY title NEWS.
Previously announced on Anime Expo, Magi and Puella Magi Madoka Magica will be heading their way to the network this fall, the former being a world premiere English dub and I have just found out that Gurren Lagann will also be airing on there this fall.
I got to be honest, I didn't expect this show to be on Neon Alley…..well, it never crossed my mind about it, but I think for those who can't afford the expensive DVD set or the hella-expensive Import Blu-ray set from Aniplex of America has a better chance watching it on here for half the price of the DVD set (or 90% less of the Blu-ray set).
SHINICHIRO WATANABE'S NEW ANIME COMING in 2014
Once again, one of my favorite anime directors is working on another anime project. This time, he's working with studio BONES with writers Keiko Nobumoto, Dai Sato, & Kimiko Ueno on to the first comedy anime series he's directed.
It's actually interesting seeing him doing a straight up comedy for a change and with a few known writers, one being from Bebop and another known for sci-fi anime, it could end up being another classic that I enjoy from his efforts.
Any thoughts or comments you got to say? Leave 'em on below if you want.