My name is Chijike and I am gamer. I love to talk about alot of things, such as... Security, Operating Systems, Anime and Gaming. Hmm perhaps i should be more specific in describing my self since this is a bio.... ok... Like Hitler, I have a million kills and only one death, I camp more than Anne Frank, and get more care packages than Haiti. O, and i get more first blood's than the eigth grade girls' bathroom. Now that i think about, it took Jesus three days to respawn...talk about lag.
If you have any questions feel free to ask. I'm generally fairly open about most things, and try to be nice when I feel I can :3
RATINGS
"What did this bring to my day?" / "What did this bring to my life?"
0.5: Speak of this again and there will be nought but pain. Either I couldn't find anything of worth in this production, or it was outright offensive to me in some fashion.
1.0: It didn't make me want to erase the previous 20 minutes from my mind. Let's not discuss it further than that if we don't need to.
1.5: Too many things went wrong to salvage the worthwhile pieces. "Would I recommend this?" I can't imagine doing so.
2.0: Lots of things went wrong, or there was a smaller number of critical flaws. "Would I recommend this?" Only under very specific circumstances.
2.5: It has problems, sure, but it still made me smile, or think. Below average. "Would I recommend this?" If it came up in context.
3.0: It made me smile, or think. It had problems, but it made me smile AND think. Above average. "Would I recommend this?" If it crossed my mind. "Could I have written this better?" Probably.
3.5: Good all-round experience, or strong enough in its core factors that it overcomes its flaws. "Would I recommend this?" Almost certainly. "Could I have written this better?" Maybe.
4.0: Excellent work all round. Maybe a little rough around the edges, or gets mired in its concepts by the end, but still innovative/dramatic/enjoyable. "Would I recommend this?" To anyone who will listen. "Could I have written this better?" Probably not.
4.5: One of the best experiences I've had with anime. Did the very best it could with what it had.
5.0: One of my all-time favourites. Accomplished something truly special in my eyes; some sort of filmographic alchemy may have been at work.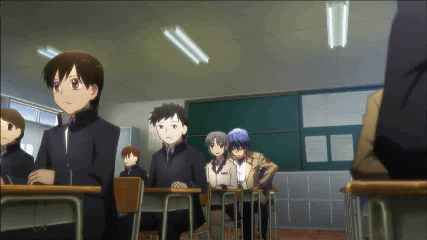 Top 100 Favorite Anime in orderPuella Magi Madoka Magica
Log Horizon
The Ambition of Oda Nobuna
We, Without Wings - Under the Innocent Sky
Horizon in the Middle of Nowhere
Student Council's Discretion
Angel Beats
Puella Magi Madoka Magica + (3rd Movie which is sequal Skip Movie 1 & 2 )
Hyakka Ryouran Samurai Girls & (second season) Hyakka Ryouran Samurai Bride
A Certain Magical Index (Also known as: "'

A Certain Magical Index

")
Aru Kagku no Railgun (Also known as "

A Certain Scientific Railgun

")
Freezing & Freezing Vibration
When They Cry
Black Lagoon & Black Lagoon Roberta's Blood Trail
Katanagatari
Dusk Maiden of Amnesia
Bakemonogatari, Monogatari, Nekomonogatari, & Nisemonogatri
Senki Zesshou Symphogear (Also known as:

"Swan Song of the Valkyries"

)
My Little Sister is among them
Eden of The East
Outbreak Company
Kurokami The Animation (Also Known as:

"'Black God"

)
Witchblade
Persona 4
Dantallion no shoka (Also Known as: "'Bibliotheca Mystica de Dantalian")
Heroic Age
Devil Survivor 2
The World God Only Knows
The Money of Soul and Possibility Control
Dance in the Vampire Bund
Ikkitousen

Sengoku Basara & (Movie) Sengoku Basara The Last Party
Girls und Panzer
Black Rock Shooter
Aoki Hagane no Arpeggio: Ars Nova
Corpse Princess
Fate/Stay Night
Fate/Zero & (Movie: Unlimited Blade works)
Baka and Test
Soul Eater
Choujigen Game Neptune (Also known as: "

Super Dimensional Game Neptune

")
Dragonaut Resonace
Hagure Yuusha No Estetica ( Also known as: "'

Aesthetica of a Rogue Hero

")
Machine-Doll wa Kizutsukanai
Full Metal Panic
Accel World
Machine-Doll wa Kizutsukanai
Sunday without God
MM!
Desert Punk
Maoyuu Maou Yuusha

Okamikakushi (Also known as: "Masque of the Wolf ")
Kara no Kyokai(6 movie series) (Also known as:

"The Garden of Sinners"

)
Birdy the Mighty
The Devil is a part timer
Rideback
Shinkyoku Soukai Polyphonica & Polyphonica Crimson S
Shakugan no shana (Also known as:

" Shana of the Burning Eyes ")

Blue Exorcist
Salty Rei
Sankera (Also known as:

" Undying Love "

)
Tenchi Muyo War on geminar
Kiss My Deity
My Bride is a Mermaid
Clannad & Clannad After Story
Boku wa Tomodachi ga Sukunai (Also known as:

" I Don't Have Many Friends "

)
Sora no Otoshimono (Also known as:

" Heaven's Lost Property"

)
Btoom
Spice & Wolf
Ga Rei Zero (Also known as: "

The Enchained Spiritual Beast "

)
Hidan No Aria (Also known as:

" Aria the Scarlet Ammo "

)
Problem Children Are coming From Another World, Aren't They?
Historys strongest disciple
K
Gods Memo Pad
Date A Live
Pandora Hearts
Magi The Labyrinth of Magic
Chaos Head
Kekkashi

Starship Operators
Toradora
Fractle
Pale Caoon
Disgea
Kore Wa Zombie Desu Ka?
Infinte Stratos
Majikoi - Oh! Samurai Girls!
Ladies Vs Buttlers
Inukami (Also known as: "

Dog Gods

")
Princess Princess
Severing Crime Edge
Tales of Syphonia

Legend of Legendary Heros
Dream Eater Merry
Koe de Oshigoto (WARNING !!!)

Cube X Cursed X Curious


Bodacious Space Pirates



Queens Blade
Fate kaleid liner Prisma Illya

Mirai Nikki (Also Known as: " Future Diary")
Bludgeoning Angel Dokuro-Chan
Murder Princess
Sword Art Online
A Dark Rabbit has Seven Lives
Omamori Himari (ALso known as: "

Protective Charm Hima

")
Note: I didnt mention what some of the japanese names translate to because you the viewers might be less inclined to watch it.....


My Top 20 Favorite Manga
Marugoto Anju Gakuen

To aru Majutsu no Index
High school DXD
Vagabond
Angel beats
Rosario + Vampire
Alicia x Welkin aka Valkyria Chronicles
Gai Rei
Cage of Eden
Rappai Rangai
Dance in the vampire Bund
The Breaker
Ishiban Ushiro Daimaou
X blade
No Longer Human (Sad Story
1/2 Prince

Black Bird