Hey there! A little about me, I'm an 18 year college student, currently employed. I love anime, the pokemon TCG, and video games:D My favorite genre has to be truly romantic Yuri. But i am just a fan of true romance. Im fairly new to anime, I have only been watching since april of 2014. I am also getting started on a Youtube channel where i will be talking about anime and possibly reviewing as time goes on, so if you are interested let me know:) it will be primarily romance/shoujo anime on the channel though.
I also want to say that the way i give an anime a score is almost pure enjoyment, i don't like to get into knocking the visuals or voice acting too much. It's not like i can animate or act out any better than the people who make these anime:p So basically if i had fun while watching i will give it a descent score.

If anyone has any suggestions for some good romance, romcoms, or just good dramas, i would be happy to check them out! I am always open to meeting new people so feel free to leave a comment or message if you would like! :) (lol finally got around to finishing my bio:p) \
All of the characters i have on here are still among my favorites, but as im still watching new anime all the time they are obviously subject to change, but i will probably be too lazy sometimes to edit new stuff in.
Oh, and i love GIFs:D
-Nap hard, Play hard, and Banish hard!
In love with:
Rikki Takanashi (Chuunibyou demo Koi ga Shitai!)
Yusa Aoi (Boku wa Tomodachi ga Sukunai Next)
Noumi Kudryavka (Little Busters!)
Yui (Angel Beats!)
And Kyousuke Natsume (Little Busters!)
My all time favorite couples are:
Tied for #1: Usui and Misaki (Kaichou wa Maid Sama)
UsuiXMisaki- I love how both characters are shown to be strong in their own ways. And they don't just have the female lead reliant on the male lead (although you could make a case that she is in some situations). And also Usui is the best:D
1.Mei and Yamato (Suki-tte ii na yo)
2.Ryuuji and Taiga (Toradora!)
3.Kou and Futaba (Ok maybe not an actual couple:p) (Ao Haru Ride)
4.Chikane and Himeko (Kannazuki no Miko)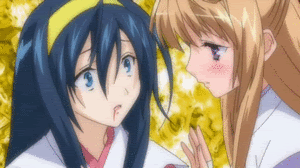 5.Haruka and Yuu (Sakura Trick)
6.Sorata and Mashiro (Sakurasou no pet na kanojo)
7.Taichi and Inaba (Kokoro Connect)
8.Fumi and Akira (Aoi Hana)
Male Character Faves:
1.Mabuchi, Kou (Ao Haru Ride)
2.Kurosawa, Yamato (Suki-tte ii na yo)
3.Otonashi, Io (Acchi Kocchi)
Female Faves:
1.Tachibana, Mei (Suki-tte ii na yo)
2.Inaba, Himeko (Kokoro Connect)
3.Aisaka, Taiga (Toradora!)
Fave Quotes:
"There's something in this world that no one has seen before. It is gentle and sweet. Maybe if it could be seen, everyone would fight over it. That's why no one has ever seen it. The world hid it so that no one could get their hands on it easily. However, someday, someone will find it. The person who deserves it the most will definitely find it. This is how its created."-Aisaka, Taiga
"Someday, maybe you'll find someone like you to share your pain with. I can't tell you when that will happen.... But the important thing is to not reject them". - Tachibana, Mei
"That was a kiss for greeting. That was a kiss for a girl I think is cute. That was a kiss for a girl I want to take things further with, and that was a kiss with feelings for the girl that's in front of me now. Can you tell the difference?"- Kurosawa, Yamato
If you like some good anime tracks check these out, some of my favorite songs:
1.My Most Precious Treasure (Angel Beats!)
2.I Will (Ao Haru Ride)
3.Ame Shoku Rondo (Toradora!)
4.Lost My Pieces (Toradora!)
Thanks for reading!