Hey there! A little about me, I'm an 18 year college student, currently employed. I love anime, the pokemon TCG, and video games:D My favorite genre has to be truly romantic Yuri. But i am just a fan of true romance. Im fairly new to anime, I have only been watching since april of 2014. I am also getting started on a Youtube channel where i will be talking about anime and possibly reviewing as time goes on, so if you are interested let me know:) it will be primarily romance/shoujo anime on the channel though.
If anyone has any suggestions for some good romance, romcoms, or just good dramas, i would be happy to check them out! I am always open to meeting new people so feel free to leave a comment or message if you would like! :)
All of the characters i have on here are still among my favorites, but as im still watching new anime all the time they are obviously subject to change, but i will probably be too lazy sometimes to edit new stuff in.
My favorite scene right now:
Kaori Miyazono-Are you going to forget? The girl who explored the school grounds. The girl who you helped rescue a lost child. The girl who snuck out of the hospital and waited for you... Are you going to forget?
Arima Kousei-I wont forget... I wont forget even if I died.
Kaori Miyazono-Right. I'm glad it's you, after all...
(yes i know the picture is not from the right scene)
"There's something in this world that no one has seen before. It is gentle and sweet. Maybe if it could be seen, everyone would fight over it. That's why no one has ever seen it. The world hid it so that no one could get their hands on it easily. However, someday, someone will find it. The person who deserves it the most will definitely find it. This is how its created."-Toradora! (Narrator)
"We're all afraid, you know.. to get up on stage. Maybe you'll mess up. Maybe they'll totally reject you. Even so, you grit your teeth and get up on stage anyway. Something compels us… moves us to play music."-Shigatsu Wa Kimi no Uso (Kaori Miyazono)
"If you can't move with your hands then play with your feet! If you don't have enough fingers, then use your nose as well! Whether you're sad, you're a mess, or you've hit rock bottom, you still have to play! That's how people like us survive."-Shigatsu Wa Kimi no Uso (Kaori Miyazono)
Favorite character right now:
Kaori Miyazono- "Look at me. Look up, and look at me. You're always looking down."
Oh, and i love GIFs:D
WARNING: some gifs may contain spoilers to some anime, i will list the possible spoilery gifs here; Ga-Rei-Zero, Toradora!
-Nap hard, Play hard, and Banish hard!
In love with:
Rikki Takanashi (Chuunibyou demo Koi ga Shitai!)
Coolest man of all time:
Kagetane Hiruko (Black Bullet)
Top in random categories:
Artstyle/Beauty:
Shigatsu wa Kimi no Uso
Favorite anime airing right now:
Shigatsu wa Kimi no Uso
Best show i have watched recently:
Tasogare Otome x Amnesia
Favorite anime:
10.Bokura wa Minna Kawaisou
This anime had a beautiful artstyle to it and it was just a cute love story.
9.Golden Time
Even though it had problems with plot holes I still felt like it had fun characters which I cared enough about to want them to be happy. And the romance was the main focus which I enjoyed.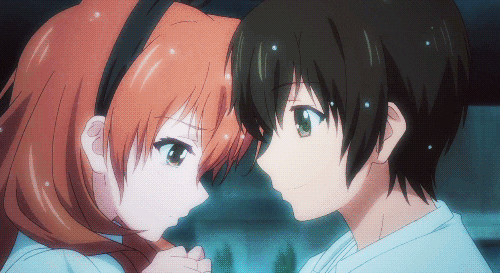 8.Ga-Rei-Zero
This show had the best opening episode i have ever seen. Also a really cool story coming from someone who almost soley watches romance.
7.Kaichou wa Maid-Sama
The couple was great, characters were great and it was very cute.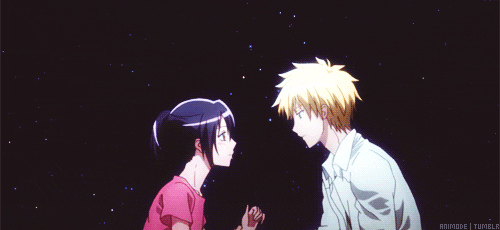 6.Toradora!
This is the anime that got me into anime! Super cute story and characters, one of the best romantic stories ever (in my opinion).
5.Kokoro Connect/Michi Random
Awesome story and funny characters, great romance too.
4.Black Bullet
I'm a sucker for drama and I loved everything about this show. Really cool characters. And also, WOW that soundtrack.
3.Itazura Na Kiss
I put off watching this anime for so long and I regret it. This turned into an incredibly heartwarming romance even though i hated Irie at times.
2.Strawberry Panic
As I said at the beginning, i love Yuri romance. Something about how it's almost seen as a "forbidden" love is really romantic to me. And you can't find a more truly romantic Yuri anime than this.
1.Chuunibyou demo Koi ga Shitai!/Ren
This show is amazing, i love the story, the obsurdity of what the characters are doing, and most of all Rikka! Rikka is the queen of moe for me and her relationship is the cutest thing i have ever seen.
That's my list for now some others that i love are Sakura Trick, Aoi Hana, Kannazuki no Miko, Little Busters/Refrain, and Acchi Kocchi.
Thanks for reading!!