Critic's Log - Earthdate: July 31, 2012. Review #16: Ef - A Tale of Melodies
The Past can be hard to leave behind, because remembering it might be pleasant, but remembering it can also be painful. But the best way to leave it behind is to keep moving forward to the future, do you have memories that you do not want to forget? Anyway, here is Ef - A Tale of Melodies!
Ef - A Tale of Melodies tells two stories (like "Memories" did) one takes place in the past where Himura Yuu meets a girl named Amamiya Yuuko who seems to know him, but he doesn't know her. However, he soon remembers that she was a girl that he knew from long ago. Yuuko then tells him something which he never knew. He was her first love since then and her first love hasn't ended yet. The second story takes place in the present (after the events in "Memories") Shuuchi Kuze meets the cousin of Aso Renji, Hayama Mizuki and spends a lot of time with her. Unknown to Mizuki, Kuze had contracted an illness and has little time to live. Kuze had decided to break all romantic ties, but things go for the worse when Mizuki tells him that she loves him.
To be technical, this is a Studio Shaft production (obviously). This is also a sequel to Ef - A Tale of Memories. This is also an anime that had great potential for Studio Shaft but this show almost looks like Memories but with some differences. The animation is almost the same but it's starting to look a lot better than Ef - A Tale of Memories. Melodies is also much darker than Memories. There are a couple of dark moments in Melodies; The 6th episode of Melodies was a bit haunting. Which I wasn't expecting.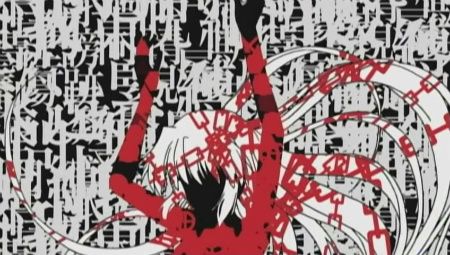 I might mention that the story is full of dialogue with some non-violent action. Like Memories, the dialogue rarely stops. Back is the melodrama (which is a bit darker this time). The romance is a bit believable this time. There is a bit of a lot going on and you really have to pay attention to what's going on. This is also a bit less boring than Memories. and I guess Shin Oonuma surprised some people with the tone of this anime than its predecessor on the direction of this anime.
When it comes to voice acting, The subtitled version is very good, the dub isn't bad at all. I prefer the subs here because of cultural settings. Christopher Ayres was the ADR director in the first series and the dub was good in the first show and the same applies here.
The music by Eiichiro Yanagi and Tenmon has a different tone than Memories, which is good because the music fits the tone of Melodies, especially on the 6th episode of Melodies. The opening for Ef- a tale of melodies is really good
The characters that are shown frequently in Melodies are a bit more interesting than those that were in Memories, but some characters don't really get developed that well. But oh well... The story is Melodies' shortcoming.
The Visual gimmick that Memories sorta overuses is present, but the usage of each application of these visual gimmicks is tolerable this time.
Ef - A Tale of Melodies is available by Sentai Filmworks. The Ef video games never made it in the US and never will be, the Ef manga and light novels have not been licensed in the US as of yet.
With that said, I really appreciate the dark elements in Ef - a tale of melodies, I like the really haunting visuals but I really don't have much to say about this anime. If you liked Ef - A Tale of Memories, you'll really like Ef- A Tale of Melodies. I cannot guarantee that the effect of Memories will remain in Melodies. There are indeed some flaws present in Melodies, Memories had some flaws too, but that was not a bad anime. Ef - A Tale of Melodies isn't a bad anime either. It isn't a masterpiece by any standard. It is really a good work of art with some flaws.

I give Ef - A Tale of Melodies a 6.8 out of 10, it is DECENT!
Feel free to comment below, and can you hear it? The Melody of Truth?