October 11 Watchlist
8 OCT
2011
Exams are coming up soon. @_@ I'm still trying to keep up some anime watching, but it'll have to be in moderation.
A Channel: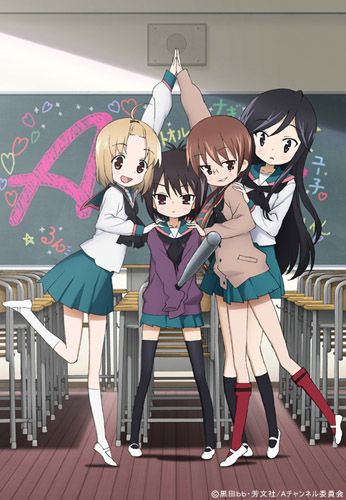 A-Channel is one of the few 2011 series on my WTW list that I've actually decided to watch. I didn't really expect much, seeing as it's another 4-girl-slice-of-life formula that has been all the rage since Lucky Star and the AP ratings were pretty low, but I was pleasantly surprised. Yes, the 4 girls feature moetastic characters, some of whom have uncanny similarities in appearance, personality and role as K-ON! characters, but as the series went on they managed to shed their stereotype and develop their own personalities (to an extent). Despite the fact that these series are usually better watched on the side of a more marathonable series, I looked forward to the warm fuzzies that A-Channel gave me every time I watched an episode and finished it quite quickly. It was plotless to the end, but it was a fun ride while it lasted. The animation was quite simple but it worked well enough, and the voice acting was pretty decent too - the spaz of many characters were well-portrayed without being whiny or annoying. Overall a good series to relax and unwind with.
Soredemo Machi wa Mawatteiru: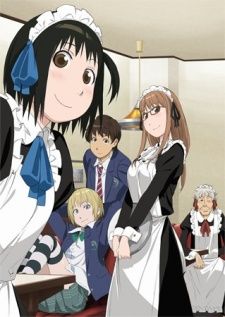 SoreMachi provides a take on the slice-of-life genre that's just... wacky. There's no better word to describe it. This is sometimes overdone and comes off as irritating, but it's generally handled well. Being an evidently SHAFT anime (it's easy enough to tell from the shot angles, composition and direction), the animation perfectly complements the 'story' style and really brings the characters to life. It also gives the whole anime a sorta dream-like feel - there was more than one occasion where I thought, "... is this actually happening, or are the characters dreaming?". Additionally, I was extremely impressed that they actually featured an honestly 'ugly' female character as a regular secondary character. I don't recall the last time I saw one of those in a high school anime. Hotori's voice actress, who voices Maka in Soul Eater, has a very distinctive and nasally voice that is initially annoying, but it soon grows on you. I have to say that she's done an awesome job in this case; she really showcases the ups and downs that the character can reach, from Hotori's shrill complaints with her friends to her whispered conversations late at night with her little brother. All in all, I thoroughly enjoyed this series. It just goes strong from start to end, no doubt fueled by the inexhaustible energy of the main character.