September 11 Watchlist
5 SEP
2011
Exams are over now, and I have a couple of weeks of leisure, woot!
Birdy the Mighty Decode:
I must say, this is one of the better anime I've seen lately, especially in the action genre. The length was just right, and the plot wasn't too complex, meaning that the pace was also well-maintained throughout and made it quite a marathonable series. The only thing that suffered from the length was the central romance, but oh well, not that it mattered in the end. :P In any case, the animation was nice and clean with simple, somewhat sketchy backgrounds and pastelly colors, and the voices were great as well. I'm glad that despite the barely-there state of Birdy and Nayjila's outfits, there was absolutely no ecchi as far as I can recall. Now that's what I call a classy anime. I'll be watching the sequel for sure!
Ichigo Mashimaro: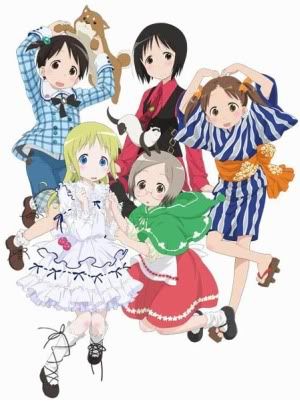 It's been a while since I've watched a show that can almost stand up to Azumanga Daioh, so naturally I was quite pleased when I came across Ichigo Mashimaro. At its essence, it's another 'moe girls doing moe things' anime, except the girls are moe because they're actually 11/12 years old, not high schoolers acting 11/12 years old. All the girls were adorable in their own ways, and each had rather vivid personalities that were fleshed out well. The animation was clean, simple and effective, and voice acting was done excellently - Miu's especially stood out, as did a few of Matsuri's lines ("Wakatta, nya?" instantly springs to mind). A great slice-of-life show that everyone can enjoy.
Shiki + Specials: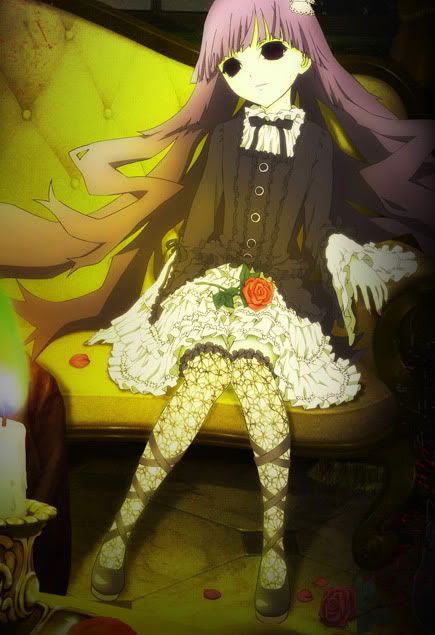 I blazed through this one with a friend, so for one thing it's quite marathonable. For another, Shiki turned out to be quite the 'moral struggle' kind of anime - for the viewer, at least. Shiki aren't just your typical everyday bloodsuckers; they're fueled not only by their hunger but also their ties to their past life and the hope that their victims will, like them, rise from death as well. In terms of action, suspense and horror/gore, plenty was delivered but at the price of reduced time for effective storytelling. There were a number of plot holes that were left at the end, though the ending was satisfying enough for those not to matter too much. Characters were also delivered by the handful so that names and faces became a bit of a blur, and important characters didn't get much of a backstory at all. Another thing that was a disappointment was the animation style, which looks fairly ridiculous especially in the hair department (much like Higurashi). I supposed that served to dampen the horrific atmosphere a little, but I would have been intrigued to see what it could have been like with more realistic - or at least less jarring - character designs. As for the Specials, they were just add-ons to the existing plot and provided the backstory to some minor characters that led to major events in the main plotline. I was somewhat bemused at first by the choice of characters, especially in 21.5, but eventually it made sense... I guess.
The World God Only Knows 2: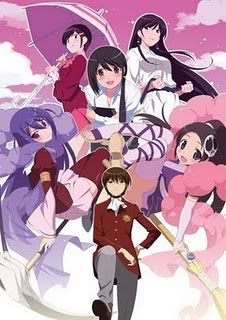 Yet another enjoyable season from this title, which didn't take me long at all to finish. I'm actually not sure why I like this series at all - technically it's a harem anime, which is one genre that I tend to steer clear of, but... perhaps it's because although Keima goes through many girls, he only ever focuses on one at a time, thus giving him a 'faithful' feel that most harem leads don't have. This season featured another handful of unique and likeable heroines, and from the looks of the ending, there will be a 3rd season too. It's quite amazing how many girls they can come up with that are totally different to each other without resorting to cheap tactics like green hair or robots or whatnot. Anyway, as usual the animation and voice acting was excellent, and I will be looking forward to more!
Spice and Wolf 2: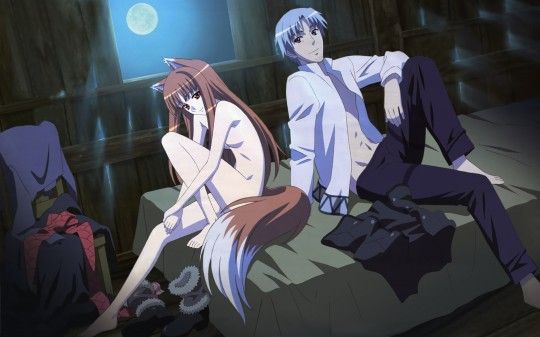 Funnily enough, one of the first pictures that I came across in Google Images for Spice and Wolf 2, which I used above, sums up the 2nd season pretty well. No, they don't have sex and Horo is never naked, but most of the series does consist of them flirting endlessly with each other, having lover's tiffs, and generally being lovey-dovey. Now, as somebody who was only impressed by the 1st season due to its calm pace and economics, the turn of the 2nd season towards drama and romance really didn't appeal to me. I actually considered dropping it after listening to their 'witty banter' for the umpteenth time and waiting for the scarce morsels of the economics that made the 1st season good, but persevered to the end. Well, by the end there was a little bit more plot and some good relationship development, but little else. The animation was pretty good, and the voice acting was excellent as usual. But sadly, this didn't turn out to be my cup of tea.