August 11 Watchlist
28 AUG
2011
I've been majorly focused on university for the last month - so much so that I've barely watched anything! And on the other hand the new season anime seem to be coming out with ever-increasing frequency. My poor want-to-watch list is seriously obese now.
Samurai 7: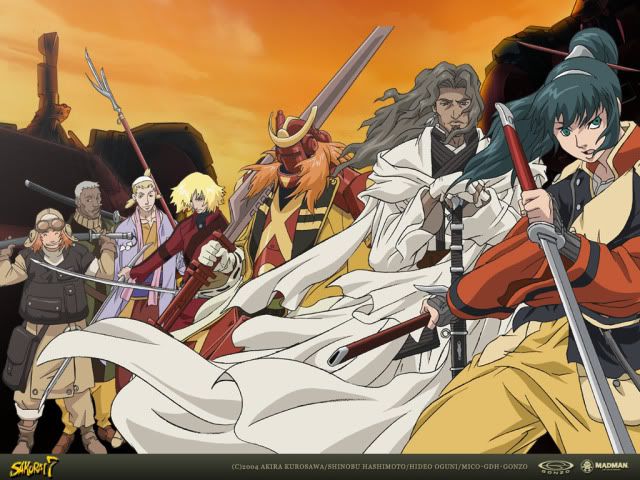 This was a very enjoyable anime, with one of the things I love best about action shows - the recruitment of awesome people with a variety of abilities. Probably why I liked X-Men movies and Heroes so much, despite the fact that there are better films/TV shows out there. Anyway, it was done very well in Samurai 7, and the characters were all likeable in their own way. Some of them even managed to develop substantially while others started off awesome so it wasn't really psosible for them to get any more awesome. Basically, the plot goes: mecha-clad bandits have been terrorizing the village of Kanna for many years, robbing them of their rice and threatening death and destruction if they resisted. The village is fed up with this and sends their Water Priestess to the city to gather some samurai to help them defeat the bandits. Cue entry of said samurai, but they aren't recruited easily. The long process only makes you appreciate it more when the 7 are finally assembled. In any case, the voice acting was very well done and music was quite fitting (I was very impressed that they used a Rin' song for the ED). Animation was rather sloppy though; in some episodes the style would get quite fluid and lazy, and then it would revert back to normal later. Not sure if it was intentional or just budgeting issues. Still a good anime, nonetheless. Watch this for some good ol' hack n' slash, with a bonus of a great storyline and a wonderful cast.

Gag Manga Biyori 3: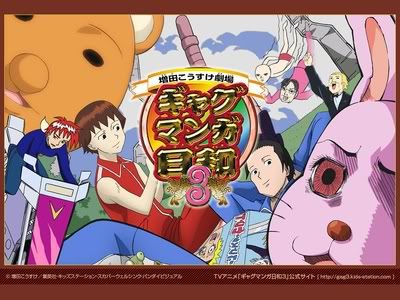 What can I say? It's Gag Manga Biyori, where sometimes-genius randomness is the norm and may or may not evoke laughter from the audience, depending on their taste. I'm not sure if it would be fair to comment on the voice acting and animation of a parody show such as this, but they're fitting, though not wonderful. My favorite parts would have to be the Usami-chan segments! Sadly they don't come around too often but when they do, I always get a laugh out of it. So yeah, give this a go if you enjoy cracktastic gag humor. The episodes are only about 5 mins long so you won't waste much time even if you end up hating it.
Ghost Hound:
Hmmm, I have mixed feelings about this one. It started off really slow and carried on that pace for about 2/3 of the series, then the story and pace picked up near the end. Unfortunately, like many other series that play out this way, it means that the ending was rushed and there was a lot that wasn't explained, including several characters and important plot points... well, I did enjoy the suspense that was well built up in the slow parts. Animation was quite simple and attractive, and voice acting was done well as far as I could hear. Oh, and Makoto and Masayuki's ~friendship~ is totally my OTP here. :P