January 11 Watchlist
4 JAN
2011
It's time for a new year - and more anime to watch!
Kimi ni Todoke: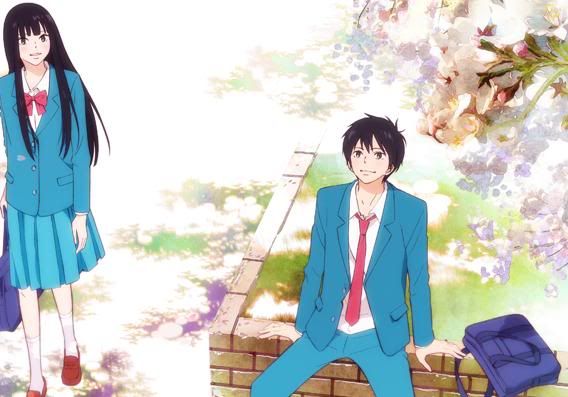 If I could give this anime the 'slow-paced' tag more than once for emphasis, I would. Indeed, like other say, it is heartwarming, but in terms of its apparent awesomeness I will have to beg to differ. Sawako's naivete ranges from bearable to extremely irritating, and although her interactions with Kazehaya can be cute at times, I can just tell that they're gonna have an unhealthy relationship where Kazehaya is uber possessive and Sawako follows him blindly like a dog. Not to mention about 40% of the animation was of Sawako staring at Kazehaya with watery eyes or vice versa. As for the characters, I didn't really care about any of them though I did enjoy the arc about Chizuru and Ryu - the side couple is always cute (including the mildly implied tertiary couple of Ayane and Pin)! Now, enough bad opinions and onto the good stuff. The animation was really pretty and, well, 'cute shoujo' I guess, with a pastel palette that really suited the atmosphere and story. Speaking of atmosphere, it was very well done - you could really relax while watching this, and let all your worries slip away as you fall into a shoujo-induced stupor. If you've had enough of action or violence anime, then this anime is for you. If you've already read/watched a lifetime's worth of sappy shoujo romance like me, then skip this as it really doesn't add anything new or interesting to the genre.
Seitokai Yakuindomo:
This anime was pretty much just a normal school anime, except every situation is twisted into dirty jokes. The main guy, who acts as the straight man to the girls, is one of the few new male students to enter what used to be an all-girls' school. However the show is too busy focusing on making up obscene jokes to pay any attention to the harem that you might expect him to get. The animation was pretty good, although simple and quite typical. There was some really good music too - or should I say, just one jazz track that is used now and again that really caught my ears. Voice acting was decent, and I recognized a few more unique ones. Anyway, Seitokai Yakuindomo was a somewhat refreshing watch after Kimi ni Todoke and what I was watching beforehand, but it's probably not a good idea to marathon it unless you really enjoy crude sex humor.
Chi's Sweet Home:
Chi is possibly the cutest kitten ever. That, and the fact that each episode was only 3 minutes long, made it easy to marathon and before you know it you'll have finished all 104 episodes. Although most of the anime consists of Chi's cute antics, there are also some tearjerking and touching moments and seeing them from a kitten's point of view made it all the more interesting. The animation was nice and simple, which complemented the overall cuteness of the show (how many times have I said cute already?), and voices were very fitting as well. Whoever did Chi's voice was pretty damn amazing. Definitely an enjoyable watch - if you're having a bad day, Chi will surely cheer you up in no time.
Bakemonogatari: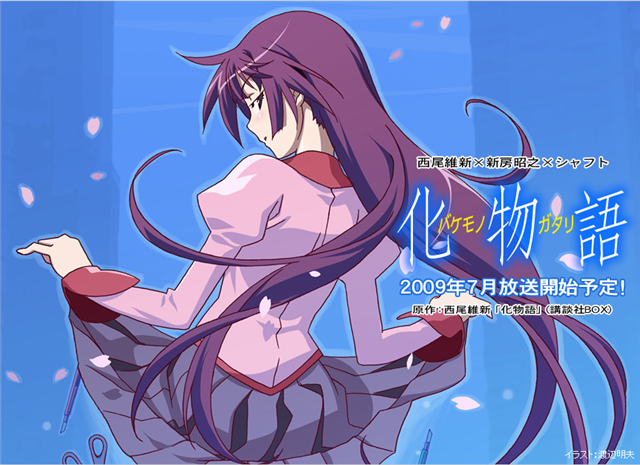 Another renowned anime that I only just got to. This was a very interesting watch - the art was amazing, especially in Blu-Ray, and the directing and style made it seem almost dreamlike throughout (much like Sayonara Zetsubou Sensei, also by SHAFT). Not for one moment did Bakemonogatari feel 'normal' or 'like a typical anime'. Although the relationships in it were superficial at best, Araragi proved not to be a typical harem lead by sticking to the one girl who confesses to him first. The dialogue was also generally interesting, and I enjoyed listening to them talking and marvelling at how much they had to say. Music and voice acting were all top-notch. Each girl had their own opening and it was all very personalized to suit their different characters. Anyway, although I didn't speed hungrily through this, I liked it well enough and definitely appreciated it for the work of art that it is.
Major Season 1:
D'aww, such a heartwarming baseball anime. It was interesting that the series starts off with the main character when he was a kid, and goes on through to the rest of his career. There was plenty of tearjerking comradeship scenes, but most importantly there were also many good baseball games that were played. Voice acting was pretty well done, and the animation was simple but effective. Although this wouldn't be my favorite baseball anime ever, it was definitely marathonable and anyone could enjoy it.