March 10 Watchlist
3 APR
2010
Even with uni, I've managed to watch 2 full-length animes. I'm amazing, right?
Sayonara Zetsubou Sensei:
It wasn't quite what I expected, but it was no worse. The animation was clean and one-of-a-kind... there was a sizeable cast of oddball girls who, as expected, were all in love in some way or another with the teacher... and the teacher was indeed in despair as he should be. The humor was also quite fast-paced, for instance the writings on the blackboard which changed in every shot and so there were lots of instances where I had to pause to read the text. There was quite a lot of otaku-related humor so you had to be an anime fan to get some of them. Verdict: a good anime whose sequels I'll most likely watch, even though I hear they're not as good as the original.
BECK: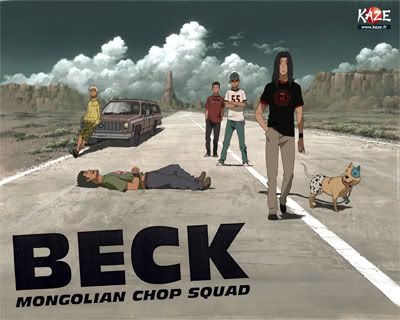 I've heard a fair amount about this anime so I thought it was about time I watched it. I enjoyed how it started off right from the beginning, with the main character being a normal teenage boy and then letting us see all of his development and what led to him being the kickass guy at the end. It was also all believable - although he continually got more awesome, he suffered for it as well and it wasn't a smooth ride. The music was good of course... and the English spoken by the American characters weren't too bad (as in, they could have been a lot worse). One thing I didn't like, however, was the animation. It was cheap and in one particular scene it made me want to laugh because it was so bad. I pretty much marathoned BECK in a couple of days, so it's got 4 stars from me.