February 10 Watchlist
18 FEB
2010
I still haven't finished LoGH... probably won't for a long time, now that uni's starting!
One Outs:
When I first started this, I heard the lethargic voice of Tokuchi Toua and immediately thought, this sounds familiar. Then I realized where I'd heard it before - it was Akagi and Kaiji's voice! One Outs somewhat follows in the same vein, minus the triangular noses though plus some really slanted eyes. Tokuchi is pretty much undefeatable, much like Akagi, and whenever the opponents think of some way to put him in debt he turns it around completely. One thing that annoyed me, however, was the stupidity of the other characters. Interestingly enough eye-slantedness is proportional to the smartness of the character so Tokuchi is clearly the big boss in terms of brains and has to constantly explain his strategies to the mere mortals around him. It was definitely a good watch though, worth watching just to see how they bend the rules of baseball.
K-ON!:
After seeing the characters plastered everywhere over the internet, I finally got around to watching K-ON!. It is indeed full of moe-moe, especially (but not limited to) Mio. The animation is interesting, kinda jerky and full of movement, but it isn't a bad thing. K-ON! doesn't bring anything new to the anime world apart from a new cast of cute characters so I guess it's another mindless watch, but one that can easily be enjoyed.
Doujin Work: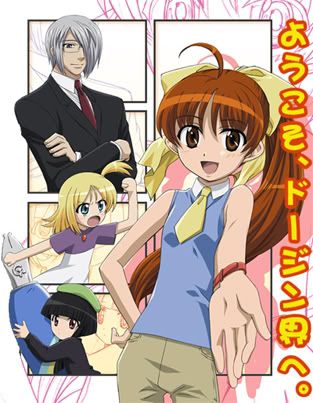 Perhaps like others I was tricked into watching this by the line "Young lady, you dropped some porn.". But perhaps I was also able to enjoy this more than others because I've been in the situation the characters are in, i.e. selling manga I drew myself, and I laughed at the obligatory yaoi fangirl. In terms of animation and such, Doujin Work has the short end of the stick, with frequent bouts of lopsided faces and cheap character movement. Luckily the eps were short so it wasn't too excruciating sitting through 12 eps of it. Another mindless watch, though I wouldn't recommend this one unless you really like otaku anime.