December 09 Watchlist (part II)
27 DEC
2009
Continuing from last week's blog...
Darker than Black:
This came with a recommendation from a friend, so I started it with high expectations. I think what really hooked me was the idea of contractors and their renumerations; it wasn't just 'I can use my superpowers as much as I want muahaha' but a matter of there being a price to pay for using said powers. And well, with so many attractive male characters, it wasn't hard to like it. :P The animation was beautiful, the story was decent although not particularly well-explained, and the characters were diverse, distinct and mostly likeable. I think I also quite liked the episodic approach that the animators used - it kept my interest and allowed the development of side characters (in fact, the main character Hei himself doesn't really get developed until well into the anime). However the 'episodes' were also all related to each other and the main plot so that there were no fillers, so to speak. All in all a very enjoyable watch.
Kannagi: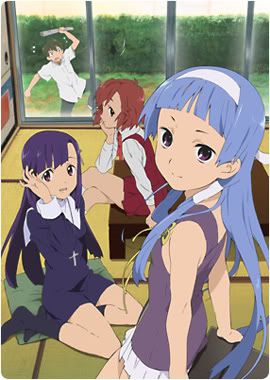 Another anime that I started with expectations, except this one didn't quite live up to them. After a slow start that introduced something akin to a plot and labelled the series as more or less a harem-esque anime, a fast-paced and energetic middle section followed where the plot was completely disregarded and the harem part took over. Then, a few episodes from the end, Kannagi seems to remember that it did in fact have a plot that it can't just ignore, and frantically tries to tie up the loose ends with a rushed ending which, frankly, didn't make a great deal of sense. I get the feeling that the anime tried to stand out from its fellow harem series by introducing a religious element, but in the end it probably would have succeeded better as what it tried to avoid being. After all, the most enjoyable episodes were the middle ones where there was no reference to the plot at all, and was just pure fun.
Toshokan Sensou: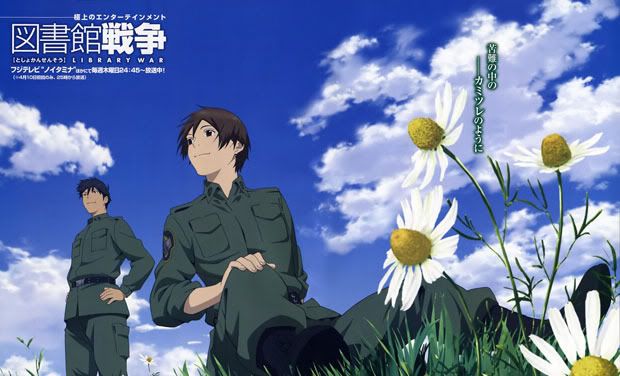 Well to start off, I really loved Toshokan Sensou's animation. The characters had bold outlines and it was just really cleanly drawn overall. As for their personalities... well, not much new there: the hotheaded tomboy main character, her beautiful and crafty best friend, the hotheaded instructor who for some 'mysterious' reason is overprotective of the main character, the apparently cold and perfect guy with a past... Don't get me wrong, I liked them all and actually didn't mind the het pairing, but they were nothing outstanding. The plot was based on an interesting albeit over-dramatic premise which meant every time a fight scene came up I found myself thinking "this is unbelievable, what are they doing?". Although there was nothing I could jab at with this anime, I could never consider it amazing either. A perfect 4 stars out of 5.