December 09 Watchlist (part I)
20 DEC
2009
I've finally gotten around to watching the dozens of anime I've had on my 'Want to Watch' list. In fact there are so many that I'm just asking people to pick a letter and then watching whatever anime starts with that letter. Easier than wading through the list and trying to decide for myself, that's for sure.
Grave of the Fireflies: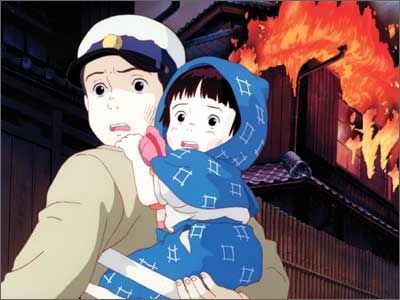 This is just a cryfest through and through. I already knew it was going to be sad, but for some reason 5 minutes in I was already teary-eyed and nothing particularly miserable had happened yet. Nevertheless it was a beautiful and, I imagine, realistic movie of the kind of hardship that orphans experienced during the war.
Honey and Clover:
To say this anime is slow is a bit of an understatement. Normally I'm all for slice-of-life, but sometimes I struggled to focus during this one. That aside, it had some very good character development and I became attached to several of them (but not Hagu, for some weird reason). Art was beautiful, and the last few episodes where Takemoto goes on his 'spiritual journey' were the best in the whole series IMO.
Hyakko:
It was nice to get back into some high-school-girls kind of fast-paced slice-of-life after H&C. I started off feeling rather 'meh' about it but the characters became much more interesting and developed (sometimes) as it went on. Somehow it also became a bit yuri at the end, but I suppose with a main cast of almost entirely girls, that's to be expected. Not an amazing anime, but kept me watching and I laughed on average 2-3 times per episode which is good enough for me. XD
Requiem from the Darkness: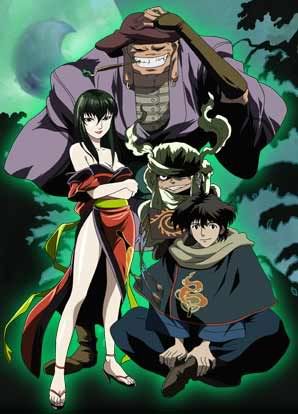 I'd totally forgotten I had this on my list, and I'm not sure where I'd discovered it from... but I watched it anyway. Good thing I did, it was definitely worth the time. It was a huge contrast from the few anime I watched before it since it was horror and all, and the art was quite crude and almost painterly. Each episode had a different horror folktale and there were plenty of plot twists to keep me watching - I loved the feeling of not knowing what was coming next. In short, Requiem was grossly engaging, however there was a large amount of gore so it may not be for everyone.