February 13 Watchlist
31 JAN
2013
Currently making the most of the rest of my holidays. ;_;
Higurashi no Naku Koro Ni Kai:
This turned out to be a surprisingly good watch. It tied up loads of loose ends from the first season in a nice way, and although there were still a few head-scratching plot points, it generally flowed very well. This time the focus is on Furude "Mipaaa" Rika, with a new side character named Hanyuu AKA Hauhau - so, as expected, it's moe overload in some scenes. Nevertheless, I thought the characters were done pretty well, except for the fact that it took 100 years for Hanyuu to finally get off her ass and do something. As usual, the animation is pretty damn ugly, but it's no worse than season 1 so I guess I can't complain. Voice acting was fairly well done, though Rika switching between her cutesy and 100 year old voice was a little abrupt at times. All in all, an excellent continuation from season 1. Definitely a must-watch if you enjoyed the prequel.
Detroit Metal City: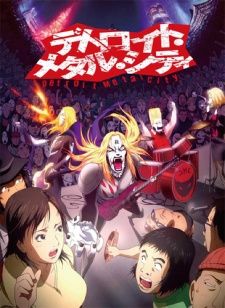 DMC was everything I'd hoped it would be and more. It's been a while since an anime has made me laugh several times during each episode, and it's even more impressive when each ep is only about 10 mins long. The premise is that basically nice boy Negishi from the countryside comes to Tokyo to attend university and pursue a musical career, and ends up developing an alter ego, Krauser, who becomes the singer in a death metal band. At the same time he tries to hide this from everyone he knows - especially the girl he likes, Aizawa. The anime shows his rise to fame as the Emperor of Death Metal and all the antics and misunderstandings along the way that make him and his band legendary. But of course, all Negishi wants to do is sing Swedish pop. As for the animation, it's not exactly aesthetically pleasing but it's a semi-realistic style that really works for the atmosphere of the series. Some people I know have been turned off by it, but it's far from intolerable. The voice acting was excellent too - you gotta love Negishi's super fast inner monologues and the energetic fans who twist everything Krauser does into some kind of obscene gesture. If you haven't seen DMC yet, get off your ass and watch it right now, or I'll SATSUGAI you.