December 12 Watchlist
10 DEC
2012
Tis the season to be jolly and watch anime!
Kiki's Delivery Service:

I've watched a lot of Ghibli films, but it took me quite a while to finally get to the classic Kiki's Delivery Service. Like all Ghibli films and coming-of-age type anime, Kiki is a generally cheerful and somewhat klutzy girl who is ever charming despite the hardships she experiences (which aren't too harsh, fortunately). It doesn't take long for the characters and the world to grow on you, no doubt helped by the fluid animation and excellently illustrated backdrops to the world Kiki lives in. The voice acting is excellent too, although I swear I've heard Kiki's voice in several other Ghibli female leads. Nevertheless, despite the somewhat sudden ending, I enjoyed Kiki muchly and recommend it to anyone.
Colorful: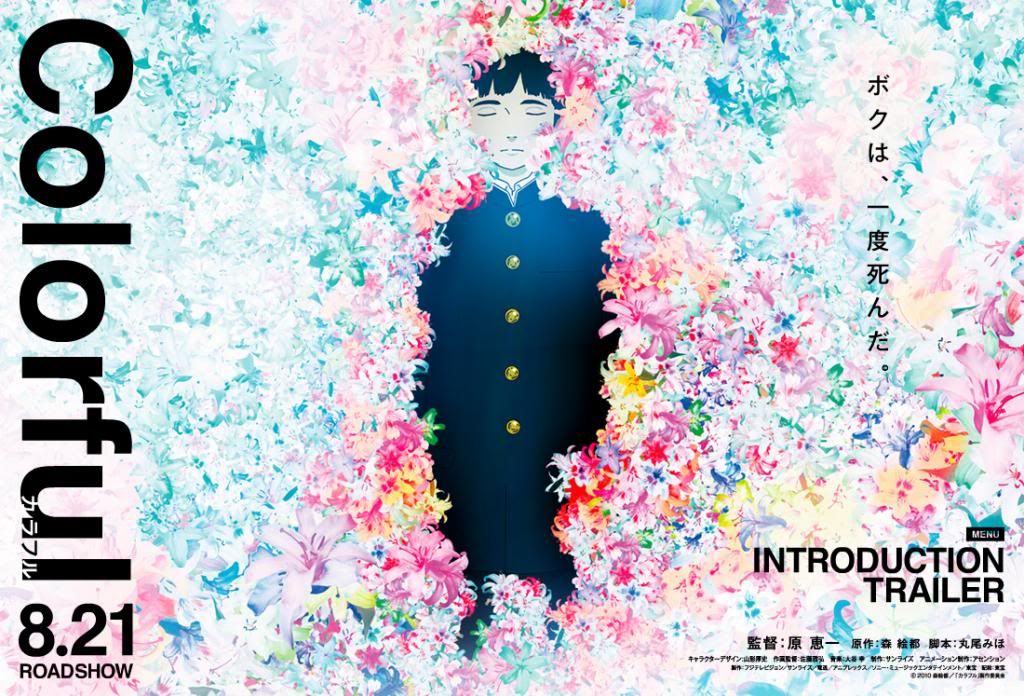 In contrast to the perky Kiki's Delivery Service, Colorful is a sobering though certainly not sombre watch. The main character, who is only known to have committed a grave sin in his past life, is given a second chance at life by being reincarnated into the body of a boy named Makoto who had recently committed suicide. Within the space of half a year, he must find out what his past sin was, as well as the reason why Makoto chose to die. Colorful then takes you through a gradual journey through that half a year, from the initial personality change that makes everyone look at Makoto with new eyes, as well as the way the main character finds out about and deals with the problems that plague Makoto's life. What begins as nonchalance about the stranger whose body he inhabits and the people around him turns into a genuine wish to live on, and I thought that although Colorful was a little slow and frustrating at times, this central plot progression was handled extremely well via subtle changes and small events that eventually snowball into something big. Aside from some annoying voices (including Makoto himself, sadly, although his voice was generally tolerable), Colorful preserved a strong sense of atmosphere through its excellent soundtrack and unintrusive voice acting, while beautifully painted backgrounds and simple yet effective character stylization made it a visual feast. Occasionally, however, they seemed to put the characters over what appeared to be a photomanipulation, which seemed quite out of place compared to the rest of the film, but otherwise I have no complaints about the art. In all, Colorful was a deep and introspective film that made me think and gave me a better appreciation of life as I know it. Although not everyone will be able to sit through this rather long movie (it's around the 2-hour mark), I still highly recommend this.
Jigoku Shoujo:
Although Jigoku Shoujo starts off with an interesting premise and every episode featured cruel, unfair stories of the dark side of human nature, its main problem is that it was really just too long and repetitive. You can only stand so many of practically the same tales before you start to become immune to the woes of all those unfortunate people. The addition of Tsugumi and Hajime to the story made things more interesting for a while, but not for long - and although their failed attempts always remind you of the desperation people can feel, it soon becomes just part of the formula that every episode must follow, rather than being anything useful to add to the story itself. And when Jigoku Shoujo's backstory finally gets explored, it's really too little too late and I'd already stopped caring at that point. In terms of production, the animation is very average whilst Mamiko Noto's voice is extra annoying, especially with the lilt at the 2nd half of 'Ippen, shinde miru?' that made me cringe everytime. Anyway, maybe some people will enjoy this anime, but it really wasn't for me.
Jyu Oh Sei:
Not sure what I was expecting, but this turned out to be a surprisingly entertaining watch. Thor is a kid from a space colony whose parents are killed and gets dropped himself onto a harsh prison planet called Chimaera where the only one who is able to leave is the one who becomes the 'Beast King' of all the humans. Unfortunately, considering the story is so complicated and the world so rich, 11 episodes is just way too short. I don't often say that an anime should be longer, but Jyu Oh Sei could have been much better if it had run for a full 26 episodes instead, especially since it missed out a fair bit of vital information from the manga. Also, I swear Thor got dumber as he got older. When he was a kid he was really 'street-wise' but after the time-skip, it seemed puberty got a hold of him and he could only think with his other head. Another thing that bothered me was how the main female characters were so easily manipulated by the men, and practically could only think about making babies (I'm looking at you, Tiz). Again, I blame puberty. On the other hand, the animation and sound was done really well. I really liked the art style, and two of the main characters were voiced by nooby Johnnys who actually did a really good job - especially Thor's VA, who sounds like a seasoned professional. Third sounded like he had an emotional range between mildly irritated and somewhat content at all times, but he was good enough. The OP and ED were excellent, too. A fun watch, but it's just a shame the story wasn't more coherent, as it really was quite interesting.
Bokurano: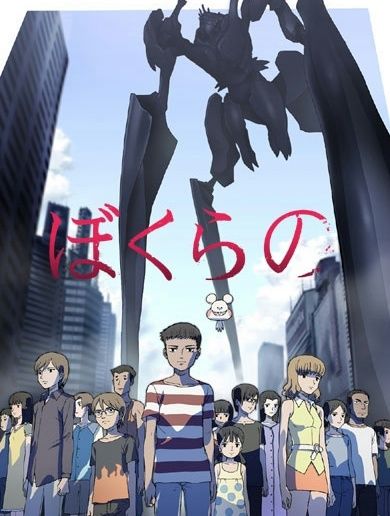 Bokurano is an interesting one. At its essence, it's a death game involving 15 kids, except the stakes are not just their lives but their entire universe. It would not surprise me if Madoka drew some roots from this, what with the cute yet deadly mascot whose explanation of universal physics gets a F for its poor logic. However, once you look past the somewhat unsatisfying basis for the main plot, you'll most definitely enjoy the rich cast of characters, almost all of whom are well fleshed out and eventually likeable. That kept me watching despite the poor animation and plot holes. It's not often that an anime manages to delve into the backgrounds of so many characters without making it feel obligatory, but Bokurano achieves it beautifully. Also, I really enjoyed the way that they weaved the two main storylines together to provide a seamless journey to the conclusion without either storyline feeling forced or rushed. All in all, Bokurano had plenty of issues, but it kept me hooked until the end.
Blood The Last Vampire:
I didn't realize this would be so short, but for the 45 mins or so that it was, I was entirely engrossed. Production I.G. certainly never fails to impress with the visuals, and the animation was really gorgeous, even if Saya's lips hogged the spotlight most of the time. Voice acting was also really excellent, with the characters switching naturally between perfect English and Japanese where the situation called for either. However, due to its length, the story really suffered. We're teased with bits of what Saya is and her past, but we never end up having the time to explain what those creatures are and what Saya's role in all this is. I watched Blood+ before this so I know Saya's story, but for the first-time viewer of the franchise this would be a very bemusing start.
Ponyo on the Cliff by the Sea:
Ponyo does some things extremely well, and others not well at all. Let's start with the good. As with all Ghibli films, the art is just breathtaking - the background art, that is. It looks pencil-shaded and has wonderful details; my favorite would have to be the fish swimming among the trees and houses, which is an image that really sums up Ponyo for me. I can't say the same about the character animation, sadly. Although the animation itself is fluid and wonderfully whimsical as usual, the art style is dubious. The best (worst?) example is Ponyo's mother, who has ridiculously massive or just sideways jugs that look poorly drawn when compared to the beautiful scenery behind her. Anyway, jugs aside, let's move on to what Ponyo does badly. For one thing the plot is just ridiculous. I wonder if the poor boy even knows what he's gotten himself into. He's only 5, for goodness sakes! Ponyo's mother practically roped him into the whole 'hey you should totally love Ponyo forever and ever' thing. I know Ghibli likes their romance young, but come on... 5 years old is just pushing it. Plus the pacing was really quite terrible - the whole moon crisis thing practically came out of nowhere and hit the viewer in the face. By then I had given up on trying to understand what was happening and just waited for the end. I suppose I can't bring myself not to recommend this because it's just so beautifully drawn, but it's best to watch this without thinking too much.