September 12 Watchlist
28 SEP
2012
Compared to last month, this month has been pretty slow watching. Time has a funny way of changing speeds, or so it seems.
School Rumble Ni Gakki: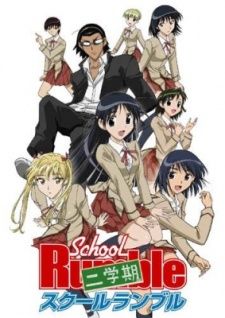 The second semester of is much like the first season - Harima, arguably the main character, pines over his love for Tenma, who is at the same time pining over her love of Karasuma-kun. It's really pretty tragic. However, it's the side characters who really make it great. Each side character has a well-established personality as well as peeks into their backgrounds, so you really end up getting a feel for what they're like as well as their roles in this school comedy. I especially liked Eri and her crush on Harima, which was just adorable! As for the technical stuff, the animation was simple and did its purpose, but wasn't especially eye-catching or praise-worthy. The voice acting was excellent though, and continues to be one of the highlights of the series. From Tenma's carefree squeals to Lala's ridiculous accent and Harima's constant mood swings, every line was delivered with an authentic tone that merged effortlessly with the character on the screen. It didn't take long to begin associate the voices with the characters rather than the voice actors, which I think is the pinnacle of voice acting. But despite all this praise, I only moderately enjoyed School Rumble Ni Gakki, simply because of its sometimes bland sense of humor and the fact that the central romance web is a little too heavy to make an enjoyable comedy, making it veer dangerously into the harem genre. Still, it's a good series, and one worth a watch if you enjoy the genre.