July 12 Watchlist
5 JUL
2012
Back to uni once again, wahhh.
Sekai-ichi Hatsukoi:
"THIS ISN'T LOVE!" Yes Onodera-dear, we heard you the first time, you shouldn't have gone to the trouble of repeating yourself 50 billion times. Does your ass hurt from being thrown on the bed/couch/ground/library steps so many times? Perhaps you and your colleagues can commiserate about it together seeing as THEY ALL GO THROUGH THE EXACT SAME SEQUENCE IN THEIR ROMANCES AS YOU. /rant But seriously, it's a shame because Sekai-ichi Hatsukoi started with an interesting first ep that had me looking forward to watching the rest. The producers are smart too, because just when I realized that there was to be no progression in the main relationship, they threw in a new couple so that I could be distracted by the fun of watching them get together instead. And then when nothing much happens for the second couple either, a third couple shows up to continue the distraction. This goes on until they realize that they need to end the story, so they bring back the main characters for another few eps of pretty much the exact same thing that they'd already gone through. However, despite all this, I can't bring myself to hate any of the characters. In fact I just don't care about them at all. I'm aware that a second season was being set up, but that doesn't mean that the content of all 12 episodes of the first season should be able to be explained in 1 short sentence (see aforementioned cry of denial). To be honest the only thing that kept me watching, aside from the lures used, was the pretty art and the fact that it was yaoi. It's no visual masterpiece, but the palette was soft and the lineart clean. I'm being generous by giving this one 3 stars, but it really reminded me why I stayed away from Junjou Romantica and this mangaka's work in general.
Kaichou wa Maid-sama:
I dunno what possessed me to pick up 2 anime that are essentially identical to watch at once, but that's what happened. Whereas Onodera's catchphrase is "THIS ISN'T LOVE!", Misaki's catchphrase is "I HATE YOU!". To its credit Maid-sama actually started off fairly interesting (for a shoujo anime) and I was quite entertained (for a shoujo cynic), and by watching slowly I was able to continue until about episode 20, after which I began to utilize my 'video skip' technique to make a mad dash for the finish line. There's a diverse cast of characters, most of which are interesting. Some of the best episodes were ones that focused on supporting cast. The only uninteresting characters, funnily enough, are the 2 mains Misaki and Usui. Misaki is a tsundere Mary Sue taken too far who repeats the same antics every episode, while Usui is an acknowledged stalker and Gary Stu. He can do EVERYTHING. I'm not kidding. From sports and academics to cooking and playing the violin perfectly, whatever Misaki needs him to do he does. Sure, he's bound to have some mysterious background that more than 1 character had inquired after, but this season revealed nothing and hence I can only judge him as an incredibly 2D character with no weakness and no personality. As for the art, I really liked the way the characters were drawn, but after reading another review I realized that the backgrounds were, on the other hand, very shoddy. They looked almost crayon-drawn, which works in comic scenes, but just detracts from the atmosphere in more serious scenes. I thought the voice acting was a redeeming point though. Misaki's VA had a good emotional range, and although Usui was pretty flat it suited his equally flat character. In conclusion, Maid-sama is a decent shoujo anime, but if you're like me and not a fan of shoujo, stay away. You've been warned.
Tiger & Bunny: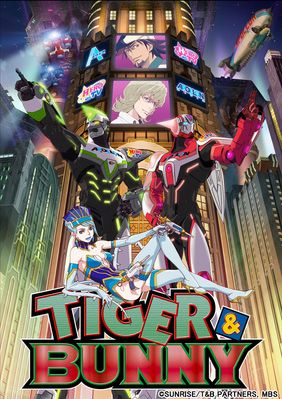 Instead of ranting this time, I will have to rave about Tiger & Bunny. Perhaps after suffering through the 2 anime mentioned above, my standards lowered exponentially, but I enjoyed this one thoroughly from start to finish. I even watched the episode previews because they'd reveal little facts about Kotetsu and Barnaby, and of course Kotetsu's attempts at English (and Barnaby's smoother yet still fairly terrible English) were just adorable. Speaking of which, the cast is definitely the strong point of this show. I fell in love with Kotetsu's adorable pathetic-ness and the way Barnaby made it a habit to catch him in his arms regularly. It should come as no surprise, then, that they're my new OTP, which made watching this even more enjoyable than it already was. Most of the other heroes got episodes focused on them, too; it was great watching them interact with each other and grow as time went on. The plot was coherent, and surprisingly ran from start to finish, which is rare in a two-cour series. Animation was simply gorgeous - I especially loved Fire Emblem's cloak. The red lineart also stood out and made the series feel a lot more colorful and alive. Having real brand names all over the place was a little jarring at first, but eventually you get used to it and it soon feels like it belongs. Voice acting was spot-on, especially Kotetsu's voice which I thought was especially suited to his character. In any case, having finished the series, I can see why yaoi fangirls love this series so much. Now I need to make it my mission to find more Tiger & Bunny fanart and doujinshi, muahaha.
Zoku Sayonara Zetsubou Sensei: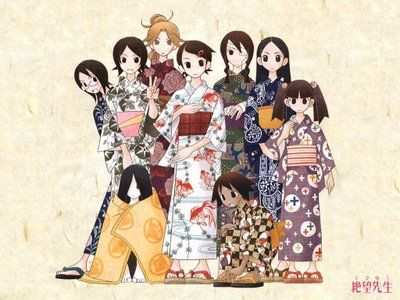 Aside from a completely baffling 2nd episode (which was in fact referenced later in the series for being baffling), this season of SZS did not disappoint. Once again we get an unique insight into the various aspects of society that we take for granted, with opinions from the usual cast of girls who are all very different. I was especially pleased that they had a half-ep focused on my favorite, Harumi, who is a yaoi fangirl after my own heart. If I were an anime character, I'd be Harumi. Her inputs always brighten up any episode, because I can totally relate to every outlandish thing she says. The animation was excellent as usual, as was the voice acting - I particularly enjoyed Yu Kobayashi as Kaere, although hearing Tomokazu Sugita's voice once in a while was icing on the cake. If you can get over the uninspiring first few episodes, this season of SZS is sure to cast you into despair once again.
Fullmetal Alchemist: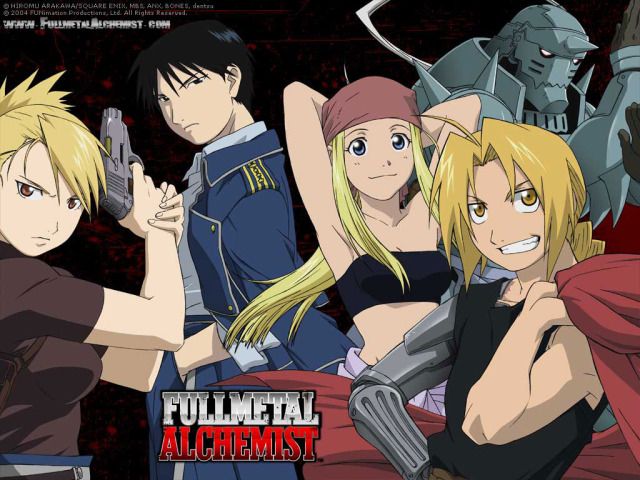 After having watched half of this almost a decade ago, I was finally convinced to watch the whole thing. The fact that I still remember the content of the episodes I'd watched shows that FMA is definitely at least a good anime, to have been able to leave such an impact on my memory. The rest of the story doesn't disappoint either, although the way it was told was a little convoluted and the pacing wasn't ideal. Meanwhile, almost all the main characters were fleshed out enough so that I actually had an emotional connection with them, whether it was a positive or negative connection. The only character I grew to get really annoyed at was Al, who was a whiny little bitch half the time (though he occasionally made up for it by being adorable). Watching this again also refueled my love for an old OTP, i.e. Roy/Ed. There was a total of perhaps 1 scene that can actually support this pairing, but it didn't stop me from reading into every interaction and digging for doujinshi afterwards. But I digress... FMA is a 21st century anime classic, and for good reason. I personally thought it was not 5/5 material, but it's definitely an extremely innovative story told in a compelling manner. A must-watch.