June 12 Watchlist
10 JUN
2012
Holiday time! Want to watch list, here I come!
Irresponsible Captain Tylor: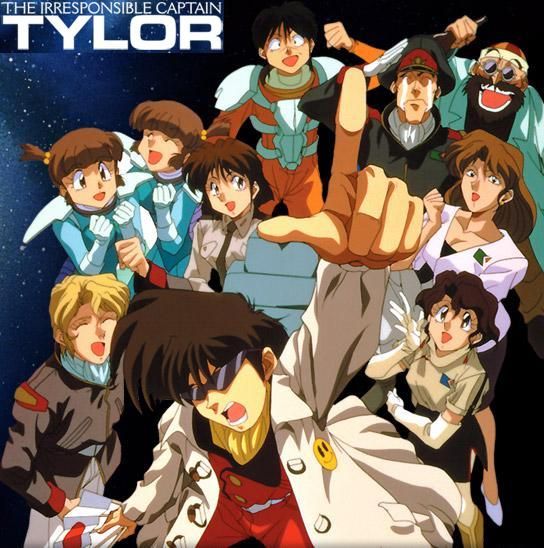 What starts off as a light comedy about a seemingly useless soldier progresses into a slow reveal of the apparent genius of the main character Tylor. He's reminiscent of Yang Wenli from LoGH, except unlike Yang who actually has to strategize, Tylor tends to just have immense amounts of dumb luck and ridiculous deus-ex-machina-type insight. I enjoyed how the main war was handled though - it showed that bloodshed isn't the solution to everything, and if you do it right then it may even be able to be avoided. Unfortunately the characters supplementing this deep message are very shallow and show pretty much zero growth, aside from perhaps Yuriko. Some of them seem to grow, then they're back at square one... then there're the ridiculously stupid pair of old captains who seem obsessed with getting rid of Tylor for no apparent reason. It's unfortunate because with some better characterization this could have been really good, what with the the decent animation and voice acting.
Yondemasuyo, Azazel-san!: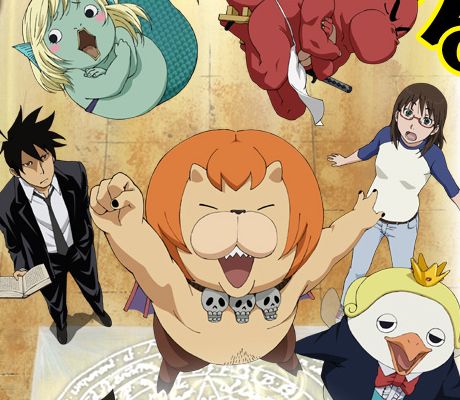 This turned out to be a surprisingly fun show. Don't let the unattractive 'mascot' designs fool you - these guys are actually demons, and they've got some pretty impressive powers. The ordinary-ness of the main character is a great contrast, though you soon learn that she's not as sane as she seems either. It's been a while since I've seen such crude humor in an anime, but I thought it was handled well and was generally not too over-the-top. Animation is pretty good; it's nothing special, but it does the job well enough. Voice acting is undeniably excellent though. Gotta love all those Gintama voices that I know and love so well. The short length of the episodes works well for such a fast-paced and comedic premise and means that there's really no excuse not to watch this very entertaining anime.
Yojouhan Shinwa Taikei: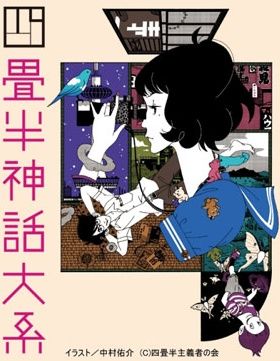 The first thought I had when I started this one was "I may need to pause to read the subtitles if he keeps talking that fast". As a result I probably missed some of the lovely animation in the first ep, but as it went on there was more dialogue (which was normal speed, thank god) and less monologue and I was able to appreciate the art. It's a distinct style of its own that is reminiscent of SHAFT in its uniqueness, but is also definitely different from SHAFT's style. It's clever, simple and deeply atmospheric, even with the interjection of 'real' footage at times. Another thing I loved was the ED and the transition into it. Can't say much about the OP, but the ED fits the atmosphere of the series so well and is an addictive song in its own right - plus the animation is quite charming too. As for the story: I've already heard good things about how clever YST (AKA Tatami Galaxy) was, and I was pleased by the end that I had not been misled. It was a very insightful look into the idea of a "perfect life" that is sought after by so many of us, and reminds us that even if the life around us isn't what we'd like it to be, we're still having our very own experiences that shape us to be the people we are. Perhaps another way to describe it is that the journey is more important than the destination, and we should not forget to stop to smell the flowers. Despite all the things I liked about it, though, I ultimately only gave YST 4/5 because of my own personal enjoyment of the way it was presented. However, make no mistake - it's a wonderfully clever show that everyone really should watch. Highly recommended!
Tight-rope:
This was pretty decent as far as yaoi OVAs go. For one thing, there was no gratuitous sex just for the sake of it, and the main characters were relatively well developed within the 2 short episodes. Of course it's got a typical yaoi manga plot, but Natsume Isaku does good stuff and I'm glad that came through in the anime. I enjoyed the voice acting a lot, with the Kansai accents and all, but unfortunately the animation was low-budget as is always the case for yaoi OVAs. Nevertheless, the animation style itself was well done, and the lineart was clean and the art consistent. A pretty good OVA overall, if you're a fan of the genre - there isn't enough yaoi anime out there so make sure you watch this one!