I have absolutely nothing to say ... and yet I can't stop talking. That's how I would describe myself for short.
A longer version ...
I'm 27 years old, believe it or not but I'm a female. (even though my username might suggest I'm a male). And believe it or not but I actually do not live on a ship named "MS Estonia" (like some people like to "believe", I'm not naming names but you know who you are ! -.-) That is a ship which travelled from Tallinn to Stockholm and unfortunatelly sank due ... still kind of mysterious ... reasons in 1994. Tallinn by the way is the capital of the country I do live in, Estonia.
Here's a little bit information about that small European country:http://en.wikipedia.org/wiki/Estonia
This is the view to the old city of our capital, Tallinn.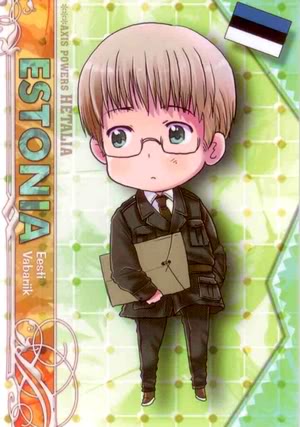 And this is how anime fans might know my homeland Estonia aka. Eduard von Bock. A bit nerdy looking but still cute, I think ! :3
I guess they chose that surname because we do have quite a lot German influenced surnames here ... and I don't really think Eduard is a pure Estonian name either (I guess it is like Edward in rest of the world). Here are some names for you that are quite popular in Estonia (in my opinion): Tõnu, Priit, Toomas, Lembit, Meelis, Ülo, Jüri, Urmas, Andrus ... etc. But I can't really blame them, these names are quite difficult to pronounce correctly for people who aren't Estonian. Even though they didn't use the human names in Hetalia very much, the fans still do, I guess ...
My name isn't too easy to pronounce either, I guess ... it's Katre, which is also quite popular name for girls in here. I once went to school with French people who called my name like this Katré and it actually sounded cool ... even though it was a bit off the mark ... :D
Now a little (un)necessary education about our surnames.
First off, my surname is Karu which means Bear in English. We have quite a lot of surnames that mean animals and birds. Even our current president has that kind of surname. It's Ilves which means Lynx in English. More examples: Rebane (Fox), Jänes (Hare), Põder (Elk), Luik(Swan) ... well, the last one is actually a bird, but what ever... :P I could go on and on and on with the list of the funny and not so funny surnames we have here but I am too lazy to do that.
Also, this is supposed to be my biography here and I have ran off the track. This is what happens if noone is there to stop me !
Anyway ... I stumbled on manga for the first time when I was about 16-17 ? Something like that ... But it wasn't until three years ago when I found this great site called Anime-Planet.com. I created a user and came here quite often (not the forums though) for a while but then for some reason I stopped and forgot about it. But now I managed to find my way back in here ... Yay ! /o/
My list of watched anime isn't impressive because I am blessed with extremely bad memory and I can't remember all of the anime I have watched in the past !Ah but I just remembered right now that I have read Battle Royale ! And not only that, I've also seen the live movie ...with real people ! Have to go and add it to my manga list before I forget ! BYE !