Hey there!
When it comes to anime, I do not watch any anime that is strictly for children or purely comical such as a very moe series. I seek a one-of-a-kind story in anime that American TV shows lack. There are stories told in certain anime that only adults would fully understand. One such anime is Black Lagoon dealing with the life of a modern day pirate of the oceans back in 2006. There is a ton of profanity and killing throughout the anime but it maintains a reasonable story to support such scenes.
Another example, Mirai Nikki (The Future Dairy) is something not commonly conceived. The twists and turns of how love is portrayed by the alterations to the delicate fabric of time brings a one of a kind experience. What I also seek in anime is the pure emotions expressed in a character's facial expression. No, I'm not talking about the comical expressions, but the expressions that portray an emotion that would take a professional actor/actress years to mimic such talent.
I also enjoy learning pieces of the Japanese culture through anime. A slice of life is always delicious.
What I dream for is seeing the world and its different cultures with Europe and Japan in particular. I plan in the future to study abroad to Europe and Japan before my student years are up. There's a big world out there and I'd like to see as much as I can before I reach the end of my life.
As for other hobbies, I am a person of many varying interests. I usually enjoy using a computer to do varying activities such as Photoshop, 3D modeling and animation, and some minor PC gaming. I also have a ps3 but I find myself giving up on consoles in the future as I find so many other benefits by playing on PC.
I was on my High school's Swimming and Track Team for three years. Though my high school years were the roughest years of my life. Not by sports, but by the way of living I had to endure that only few close to me know about.
Before considering to watch any anime, I usually don't watch anything below 3.0/5.
Overall, I try to find any hidden meanings in a work of anime and other forms of entertainment such as regular movies like Pirates of the Caribbean. Another example is that the Madoka Magica series encompasses many themes not used in a traditional magical girl anime. And this is the reason I have watched and enjoyed the series. To name a few, horror, time-travel, gun fights, death, aliens.
The next text section should be observed with a mature mindset.
As for what kind of sexuality I enjoy in anime, I prefer seeing heterosexual relationships between characters (Ex. Kirito & Asuna from Sword Art Online). I have no problems watching Yuri relationships in anime but I don't go out of my way to seek such a series. I have not watched and never plan to watch a Yaoi series since seeing such relationships sicken me.
How I rate anime:
1 star: Not going to watch or finish the series based on ratings from others (Waste of time)
2 stars: Not going to watch or finish the series based on ratings from others (Waste of time)
3 stars: Lacked an in-depth story of characters and may focus too much on ecchi and/or moe and/or contain poor humor (may stall or drop). Plot fairly predicable.
4 Stars: Worth watching at least once all the way through and leaves an emotional imprint upon me. Kept me guessing what events would come next at least toward the end of the series.
5 Stars: Original, high-quality in-depth story that may have been very psychological with beautiful artwork. Kept me guessing what events would come next.
In the end...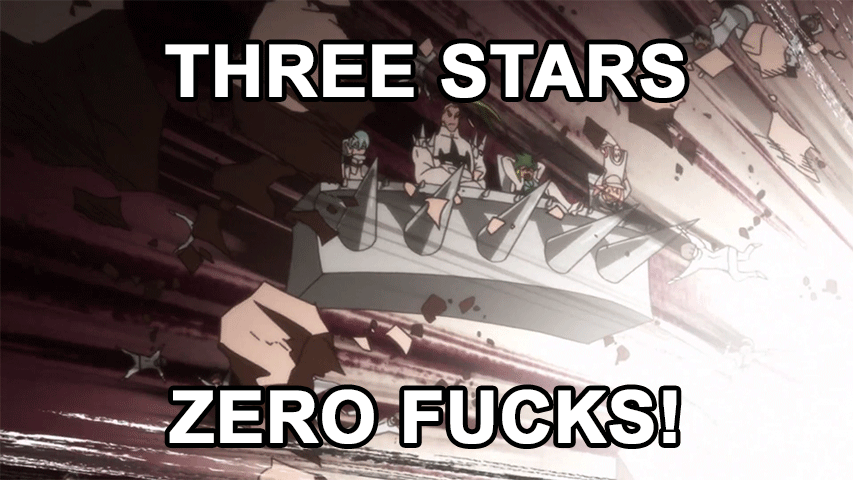 About the Characters I like:
As for the characters I adore as indicated by the list below, any guys on the list are guys who I'd like to have as a friend or best friend. Some reasons why are that they first of all may treat women right or just share many of my interests or simply would make my life a bit more interesting (ex. Okabe-kun from Steins;Gate).
As for the girls on my list, I'd like to have as a friend or best friend or perhaps even as something more. But alas, I only use their character as a reference to what I seek in the heart of a real girl. The concept of having a character as a waifu is outrageous to me since such a relationship is synthetic and only of one's imagination.
Random fun question: If you could dye your hair any color, what would it be?
If I were to dye my hair any color, it would be black with an electric blue stripe in the front.
Other things about myself:
My desktopnexus profile for anime pics.
http://my.desktopnexus.com/HDxTrancexProvider/
Types of music I enjoy:
Dubstep (Skrillex, Krewella), Techno, Trance, House (Deadmau5), rock, some heavy and death metal, pop, almost anything pretty much.