Anime vs. Manga
12 AUG
2011
Here we go, the ultimate VS.
Let's choose between the two views and their arguments.
Anime > Manga.
I shall keep it short here... Most of the anime fans prefer anime, and they know why, I guess. I'm here to defend manga. ;p
1) Seiyuus.
I guess that'd be the most popular and ultimate argument of an anime fan. That's right -- seiyuus can give life to the characters, because, as we all know, Japanese voice actors > anywhere in the world's voice actors.
2) Music.
Yup, we all know how more epic, dramatic, comedic and so on can a moment be with the right music going on...
3) Animation
Yeah, manga is pretty static.
4) Colour
And manga is pretty colourless, too... There are scenes out there in the animes in which you pause and look for several minutes just because of its beauty. :3
5) All the pretty good original animes
Cowboy Bebop, Ghibli... blah blah :)
Manga > Anime.
Yay, my place, we finally got to it.
1) Censorship
That's one really, really important point. Because in anime, people have to edit in order for the piece to go on screen. They try to dodge blood, people stabbing each other, people destroying buildings... And I guess that's cool 'cause you win the kids' audience. But... I thought anime wasn't exactly for them. Compare the anime and manga variants of Gantz, Berserk, GTO, Trigun... Even Hunter X Hunter. Find the differences in quality. Censorship = Me feeling robbed. I guess commercialization counts here, too. Because a mangaka can do whatever he likes. Whatever he likes. Anime studios have to get money from their shows. That's pretty much enough for them to fail ultimately.
2) Pacing
Manga doesn't really have any limits. You can be serialized in any kind of magazine you want and thus your chapter can be 18 pages, 20 pages, 30 pages, 55 pages, 70 pages, you can make it every week, month, 2 months, one-shot, etc. However you like, and you have all the time you want. If you get cancelled from a popular magazine, you can go to a more unpopular one. But in anime, you HAVE limits - mostly money limits and time limits. An episode MUST be 25 minutes, or otherwise isn't an episode, the pacing can be totally ruined - Fairy Tail is a perfect example. The Fighting Festival arc was Soniced with 3-4+ chapter per episode, the next arc, Oracion Seis, was prolonged, and prolonged, and while both are ~30 chapters in the manga, in the anime the first is 7 and a half, the second is 18. Also, most of the time the anime MUST be 11/13/26/51/52 episodes. Which again leads to bad pacing. Which is bad. Not to mention retroductions and recaps, see also Naruto.
3)  Money/Animation problems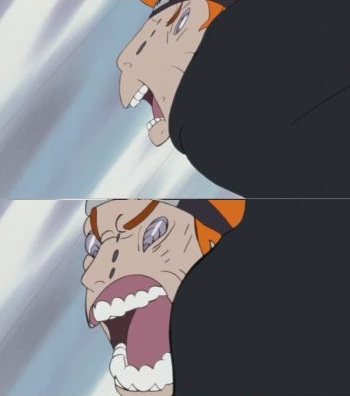 We all suffered because of this, didn't we... It's not only Naruto, many other animes, not shonens, too, sacrifice animation quality because they do not have enough money. Or are just talantless idiots. Which leads to Pain the Monster/Pain the Roadrunner, etc. BAD! And a mangaka can do whatever he wants with a sheet of paper and a pen...
4) Fillers
You know, all those things that hurt us almost physically. Because people want money and because they don't simply stop when they catch up to the ongoing manga, they do fillers. Even a brainless hippo can make the difference between the original plot thought from the original creator, or the, the, the PHENOMENON created by some random idiot scenarist. Which, at best, leaves you with a "meh.............". At best. At worst, you hit your head into your display... or sadistic/suicidal thoughts appear. For example... every anime in this world with fillers in it. Perhaps One Piece is an exception, though.
5) WTF anime adaptations and endings
When the manga is ongoing and you don't have the money/time/patience to adapt it all. Or just don't want to. Then, you either send your ninjas in space mecha fights and go into tremendously stupid fantasy worlds, or just finish in the... nothing. See also: Gantz, Hellsing, Claymore, Berserk... Again, there might be some exceptions (FMA, but still, FMAB is way above it), and exceptions only prove the rule.
6) Colourlessness
Mmm, maybe that's just me, but there are some things in this world (many things in this world) that look more epic, more detailed, more real, more everything done in black and white. And, of course, we, manga fans, have the lux of going crazy after seeing two pages in colous of our favourite manga. :D
P.S. I also can listen to music while reading manga, but obviosly, I can't do that with anime.
7)  All the brilliant manga with no adaptation
Maybe they just don't know for their еxistence, perhaps they think they won't get money from them, but whatever the reason, there are godlike manga which haven't been and most likely won't be adapted. -1 for anime. I'll only give one example: Parasyte.
---------------------
So, it must be pretty obvious what I like more. Still, I consume much anime, but I prefer manga. Anyone's free to dispute with me. :>