Hello all,
My name's Celine, and I'm a university student studying a Bachelor of Multimedia.
I read more manga than I watch anime, mainly because it takes half the time, and keeps my attention much easier. I'm a huge fan of horror, sci-fi and fantasy, but I've read lots of shoujo romance series.
I also play video games in my spare time.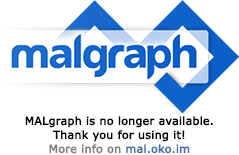 Completed:
100th: Akira
Other websites:
MAL - Phantom-Brave12
Hummingbird - Catsy
MangaUpdates - Phantom-Brave12